*********************************************************************************************************************
Sprinkled with Love Block of the Month
7 Month block of the Month Program
It's not too late to start. We have 4 Spaces are still available..
Sprinkled with Love quilt designed by the Quilt Company, features six delightful watering cans filled with flowers and sprinkled with birds, butterflies, bees and more!

Blocks include Love Blooms Here, My Bee-utiful Garden, Liberty Garden, Snail Crossing, Every Birdie Welcome and Stitchin & Sewing.
Our program includes all the original Kimberbell fabrics pictured & fabric accessory sheet. Fusible web, Button Pack & Ric Rac are not included.
Finished Size: 58" x 70"
Registration Fee: $15.00 (non-refundable) Monthly fee of $25.95
********************************************************************************************************************************************************************
November is here and this is what's happening at the shop.
SALE on Autumn Fabric Collections
Thursday November 16 and Friday November 17, 2017
25%
off Autumn Fabrics
minimum 1/2 yard cut
Sale includes pre-cuts and Fat Quarters.
limited to stock on hand, no fat quarters will be cut during sale
Discounted Items do not qualify for Frequent Shopper Credit
Discounts may not be combined
Holiday Hours


Wednesday November 22, 2017 Early closure 1pm
Thursday November 23, 2017 CLOSED

As we count our blessings on this Thanksgiving Holiday, we count ourselves extremely lucky to have customers like you.
Thank you for your patronage, support, and allowing us to be a part of your creative quilting and sewing journey.
Wishing you and your family a very Happy Thanksgiving.
Our Stash Buster Club is collecting donations for
Veterans First specifically Mary Ellen's Place in Phoenix, AZ:
This non-profit organization provides affordable Housing for Single Women Veterans
with supportive services and programs that prevent homelessness and stabilize lives.
A donation box has been placed here in the shop.
Donations are being accepted
until Thursday December 14
Items for donation need to be Non-perishable and child friendly.
Such as dry pasta, spaghetti sauce, mac and cheese, beans, rice, peanut butter, jelly,
cereal, soups, and similar food items.
Your generous donations are greatly appreciated.
PUMPKIN SHEET CAKE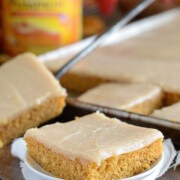 INGREDIENTS:
1 cup (2 sticks) unsalted butter, melted
1 cup milk
1/2 cup pureed plain pumpkin (canned plain pumpkin)
2 cups granulated sugar
2 large eggs
1 teaspoon vanilla extract
2 cups all purpose flour
1 teaspoon baking soda
1 teaspoon pumpkin pie spice
1/2 teaspoon salt
Frosting
1/2 cup (1 stick) unsalted butter
8 oz cream cheese
1/3 cup milk
1 teaspoon vanilla extract
1 teaspoon cinnamon
5 1/2 cups powdered sugar
DIRECTIONS:
Preheat oven to 350°F. Grease a 13 x 18 jelly roll pan with butter or spray with Baker's Joy.
In a large bowl, whisk together melted butter, milk, pumpkin and sugar. Whisk in eggs and vanilla extract. Then whisk in flour, baking soda, pumpkin pie spice and salt.
Pour batter into prepared jelly roll pan and bake for 20 minutes, or until a toothpick inserted in the center comes out clean.
Frosting: in a large bowl cream butter and cream cheese until smooth. Beat in milk, vanilla extract and cinnamon on low speed until combined.
Then whisk in powered sugar - beating on high until frosting is smooth. Spread frosting on top of cake.
Refrigerate cake until ready to serve, and let cake rest on counter for 10 minutes before serving to let it warm up just a little.
Read more at https://thenovicechefblog.com/2016/09/pumpkin-sheet-cake/#ozCk4ox7yRROW6tX.99